Quizzes for Culture Vultures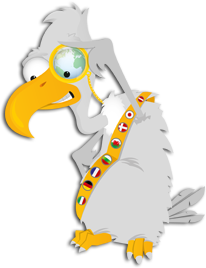 Do you think you could better the Culture Vulture? He consistently scores over 90% on our quizzes. Up for it?
Our mascot knows a thing or two about culture - so although he really doesn't want anyone beating his scores he loves the fact that people learn when taking the quizzes.
These quizzes are designed as a way of introducing learning points about culture through a bit of fun. Once you have finished, you'll see what you got right or wrong and your score.
Can you hit the 85% pass mark?
Fun for everyone from business professionals to school kids!
PICK A CATEGORY