Customized Intercultural Training via Webinar
---

---
Our expert trainers design and deliver targeted cultural sensitivity training courses for professionals around the globe.
---
customized

for your learners

all

topics, courses and countries

quick

to set up and roll out




access

to global business experts

recordings

available for further training




interactive,

instructive and engaging content

post-production

captions, subtitles and translations
---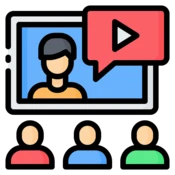 Want to Arrange a Webinar?
If you would like a webinar for your team or organization, it's really simple.
Just contact the team and let us know what you are looking for.
As long as there's a cultural angle to it, we cover all types of training but if you want to see some information about our most popular courses, then scroll down.
---
How Will Intercultural Training Make an Impact?
---
Intercultural training is about helping you minimize challenges and maximize opportunities when working across cultures!
It provides organizations with many benefits including:
Better skilled staff and

heightened motivation

Clearer communication and

more conscious collaboration

Enhanced competitiveness and

greater credibility

Improved confidence and

a renewed focus on goals

Sharpened processes and

greater control over outputs

Increased financial security and

future opportunities
---
---
Popular Cultural Awareness Training Courses
---
---
---
---
---
---
---
---
---
---
---
---
---
---
---
---
---
---
---
---
---
---
---
---
---
---