France Cultural Awareness Training
---

---
Our tailored webinars are perfect for anyone looking for hands-on training about French business culture & practices.
We equip professionals with the know-how and skills to confidently navigate cultural differences and drive productive outcomes.
---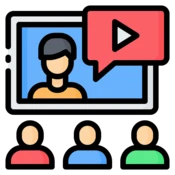 Let's Get Started on Your Webinar!
If you would like us to start developing a webinar for you, simply contact us to discuss your needs in more detail, or use the form below.
---
How Does Cultural Awareness Training Help?
Learners will gain a detailed understanding of the French working style and the insights needed to manage professional relationships confidently.
By learning about French culture and in particular, French business culture, learners will:
Understand the motivations and expectations of French counterparts
Appreciate and overcome potential workplace challenges
Anticipate and manage communication challenges
Gain the trust and respect of French counterparts
Avoid potential offence, conflict and delays

---
What is Covered in France Cultural Awareness Training?
Our cultural awareness webinars are carefully crafted to ensure the content and training objectives meet the specific business needs of our learners.

Here is an example of what a course on France can look like and some of the topics covered:
2. Communicating with the French

3. Working with the French

4. Working Virtually with the French

5. Making a Good Impression

Demographics, identity and diversity
French value systems, attitudes and behaviours
Seeing France in context
The French communication style
Common communication challenges
Strategies for effective communication

French attitudes to the workplace and expectations of managers and peers
Approaches to giving and receiving feedback
Business protocols for key areas such as meetings, presentations and negotiations.
Strategies to ensure effective virtual communication
Managing remote French teams
Techniques to improve collaboration

French cultural taboos and etiquette
Addressing people and use of titles
French dining and hospitality

---
FAQs - Online Cultural Awareness Training Webinars
Below, we've included answers to some of the most common questions about our training webinars:
1. Who are the webinars for?

They are of value to anyone working or doing business with the French in any capacity. Whether you're in the country or working virtually with French counterparts.

2. How many people can we have on a webinar?

It's up to you. We have delivered to hundreds before but obviously this would be more of a presentation as opposed to an intimate coaching session. Let us know what you need and we can talk options!
3. Can we have a recording?
Yes, we can send you a MP4 file of your training webinar for you to keep and use in the future.
We can even go one step further and incorporate the webinar file onto an eLearning course for you with additional content, quizzes and/or case studies.
Learn more about our Custom eLearning Courses.
4. What can you help us with about French culture?

Our experts can pretty much focus on whatever aspects of French culture that you need, whether these are about business or society in general. We can also get very specific on topics whether that be the French negotiation style, etiquette or management.
5. Who are your experts?

Our experts have lived and worked in France and know the French culture inside out. They bring personal, professional and academic experience and insights to the (virtual) table.
6. Do you cover any other countries?
Indeed, we can cover most countries in the world but our main areas of focus are:
Brazil
Canada
China
India
Indonesia
Iran
Ireland
Italy
Japan
Malaysia
Middle East
Saudi Arabia
South Korea
Thailand
UAE
UK
USA
Vietnam
---