Managing Multicultural Teams: Online Training
---

---
Our tailored webinars are designed for organisations looking to support managers and team leaders who look after multicultural teams.
One of our industry experts will develop and deliver the perfect course to help your people take their management skills to the next level!
---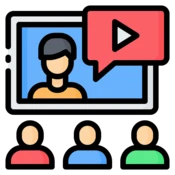 Let's Start on Your Webinar!
If you would like us to start developing a webinar for your team or organisation, simply contact us or use the form below.
We work with organisations from all sectors, across the world.
---
What are the Benefits of Cross-Cultural Management Training?
Our training will help team leaders, supervisors and managers...
Apply fresh insights, tools and techniques to deliver instant results
Choose the right management approach for the right situations
Motivate and empower their teams and individual members
Handle difficult situations confidently and tackle problems quickly

Communicate effectively and express themselves clearly

Identify team challenges and implement change meaningfully

---
What's Covered in a Course for Managing Multicultural Teams?
The contents of any of our webinars are tailored according to the needs of the learners and the organisation.
Our trainer will carry out a needs' analysis prior to the webinar, ensuring its contents, style and delivery are in line with expectations and requirements.
Here is an example of a course delivered to a group of managers over the course of a full-day via webinar:
2. Assessing Your Own Management Style

3. Understanding Your Team

4. How to Develop Your Team

5. Strategies for Management Success

+ Discovering the influence of culture on communication, team work and working practices.

+ Examining how culture shapes your approach to management, hierarchy, leadership, time management, negotiation, decision-making, company policies and procedures.
+ Reflecting on your team and their culture(s) and how this impacts areas such as motivation, feedback, conflict and direction.
+ Upskilling and best practices in areas such as trust, relationship building, communication and planning,
+ Changing behaviour to meet cultural surroundings and leveraging differences within the team.
---
FAQs - Online Training
Here are some quick answers to some commonly asked questions about the cross-cultural management course and its delivery.
1. Who is the course aimed at?
Anyone in a management, supervisory or leadership position who is responsible for a culturally diverse, global or international, team.
This course is more suitable for managers who are physically with their teams. For those managing virtual teams, refer to this course instead.
2. How many people can we have on our webinar?
It's up to you.
The more people you have on a webinar, the less engaging. Having smaller groups allows for dialogue and activities. We like to have between 6-12 people but can accommodate larger sizes.
3. How long are the courses?
Again, this is up to you and also depends on who you are training and why.
Obviously if you are serious about behavioral change through the training, then time is needed.
4. Can we record the webinar?
Yes, we will send you an MP4 file for you to keep and use for the future!
We can also use the video to build a custom eLearning course for you. Learn more about our Custom Course Development.
5. Who are your trainers?
Webinars are designed, developed and delivered by professionals with a background in managing and leading people as well as training experience in intercultural communication.
6. Do you offer any other courses?
We can offer online training support in the following areas as well as e-learning courses.
---