Brazil Cultural Awareness Training
---

---
Our hands-on cultural training webinars are a perfect boost for organizations doing business with Brazil.
Access the essential insights and skills needed to successfully collaborate with Brazilian culture!
---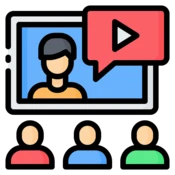 Let's Get Started on Your Webinar!
Want us to start developing a cultural training webinar for you?
It's all very easy.
First step is to let us know what you need, who for and why.
Please use the form below…or you can hop over to the contact page.
---
How Does Cultural AwarenessTraining Help?
Through exploring Brazilian culture and in particular, Brazilian norms around working practices, learners will be able to:
Present themselves with confidence
Communicate in a way that builds trust
Develop productive professional relationships
Navigate cultural differences with ease
Foresee and manage challenges
Manage change and conflict positively
---
What's Covered in Brazil Cultural Awareness Webinars?
Our training webinars and their contents are customized to meet the specific needs and cultural challenges of learners.
Following a detailed needs' analysis, our experts will develop content which addresses topics relevant to the workplace and to the learners' roles.
Here is an example of what a webinar could look like in terms of content and flow.
3. Holidays & Celebrations

5. The Communication Style
+ Framing the course contents and its benefits as well as putting Brazil in context for the specific learners, i.e. looking at a specific sector, region or within the global context.

+ Uncovering the key influences behind the Brazilian mindset and the way Christianity, religion and local belief systems shape the culture.
+ Learning about the important national holidays and the practical impact on foreigners working with Brazilians.

+ Understanding the values that shape the Brazilian culture and way of life in order to better understand motivations and drivers.

+ Exploring the Brazilian approach to sharing information, giving opinions and managing disagreements, coupled with essential communication guidance for foreigners.
+ Covering critical aspects of Brazilian business culture, such as relationship building, dealing with conflict, agreeing outcomes, negotiations and meetings.
+ Appreciating common taboos and etiquette to ensure foreigners don't cause unnecessary offence or upset.
+ Affirming that when working with anyone from Brazil, it is important not to draw upon stereotypes.
---
Got Questions about our Brazil Cultural Awareness Training?
Here some quick answers to some common questions on our webinars.
1. Who are the webinars for?
Literally anyone who works with Brazilians in any capacity.
Learners might already be living and working in Brazil or they may be planning an overseas relocation. Alternatively, learners might travel to Brazil for work or they may just work with Brazilians remotely.
We will tailor the contents according to your specific situation.
2. How many people can we have on a webinar?
It's up to you. We have delivered to hundreds before but obviously this becomes more of a presentation and less of an intimate coaching session.
We like to work with teams of 4-12 if the webinar is to be interactive but can accommodate more depending on the needs.
3. Can we have a recording?
Yes, we will send you a MP4 file of your webinar for you to download and use as needed.
We can even go one step further and incorporate the webinar file onto an eLearning course for you with additional content, quizzes and/or case studies.
4. What things can we learn about Brazilian culture?
Pretty much anything you like, as long as its relevant!
Our team of experts have the skills and experience to provide training relating to a large range of topics on Brazil, the society, economy, culture, mindset, etc.
5. Who are your experts?
Our cultural training webinars are designed, developed and delivered by training professionals with a thorough personal knowledge of living, working and doing business in Brazil.
---