Global Virtual Team-Building Online
---

---
Our tailored training courses are perfect for organisations looking to support their global teams on collaborating effectively in the virtual space.
One of our industry experts will design and deliver the perfect course for your team to help boost their success.
---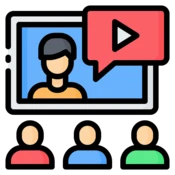 Let's Start Your Webinar!
If you would like us to start developing a webinar for your team or organisation, simply contact us or use the form below.
We work with companies and organisations from all sectors, around the world.
---
What are the Benefits of Team-Building Training?
Our courses on working virtually in global teams will help learners...
Communicate clearly as a team and reduce confusion or errors

Manage expectations of colleagues and improve collaboration

Respond quickly to problems and handle conflict carefully
Persuade with conviction and negotiate successful outcomes
Enhance their interpersonal skills and career opportunities
---
What's Covered in a Training Course for Global Virtual Teams?
The contents of any of our webinars are tailored according to the needs of the learners and the organisation.
Our trainer will carry out a needs' analysis prior to the webinar, ensuring its contents, style and delivery are in line with expectations and requirements.
Here is an example of a course delivered to a team over the course of a full-day via webinar:
1. The Challenges of Global Virtual Teams

2. The Impact of Cultural Differences

3. Effective Communication in Global Virtual Teams

4. Creating Synergy in Global Virtual Teams

+ Key issues when operating in remote teams including roles and responsibilities, physical and cultural differences, relationships and trust.

+ Common areas impacted by cultural differences including meetings, decision-making, management style, presentations, feedback and communication.
+ Different approaches to communication and their associated challenges across various channels and team structures.
+ Practical tips, strategies and best practice to help create clear communication and collaboration across team structures.
---
FAQs - Online Training
Here some quick answers to some commonly asked questions about the course and its delivery.
1. Who is the course aimed at?
People working in any sort of virtual team that has a cross-cultural or global element to it.
For managers and team leader roles, we also offer a more specific course here that is more suited to their needs.
2. How many people can we have on our webinar?
It's up to you.
The more people you have on a webinar, the less engaging it will be and the more difficult it is to do things like activities and exercises.
We like to have between 6-12 people but can also accommodate larger sizes if you need us to.
3. How long are the training courses?
Again, this is up to you and also depends on who you are training and why.
Obviously if you are serious about behavioral change through the training, then time is needed.
4. Can we record the webinar?
Yes, if you like we will send you a MP4 file for you to keep and use for the future. If you don't like, we won't press record!
We can also use the video to create an eLearning course for you along with additional content, quizzes/tests, case studies and much more.
5. Who are your trainers?
Webinars are designed and delivered by training professionals with a background in international management and a training specialisation in cross cultural collaboration.
6. Do you offer any other courses?
We can offer online training support in the following areas as well as e-learning courses.
---