Leading a Global Virtual Team: Online Training
---

---
Our tailored webinars are perfect for organisations looking to support leadership roles with responsibility for global virtual teams.
Let one of our industry experts design and deliver the perfect course to empower your leadership team to succeed.
---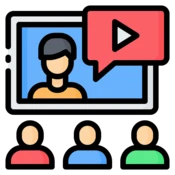 Let's Get Started on Your Webinar!
If you would like us to start developing a webinar for your team or organisation, simply contact us or use the form below.
We train professionals from all walks of life across the globe.
---
What are the Benefits of Virtual Leadership Training?
We approach the topic of virtual global leadership and management with a focus on cultural differences that will help learners...
Enhance their leadership and motivational skills
Gain respect from their team(s) and create trust

Anticipate problems quickly and deal with them confidently
Express themselves clearly and avoid delays or wasted time
Influence their team(s) and convincingly persuade

stakeholders
---
What's Covered in Global Virtual Team Leadership Training?
The contents of any of our webinars are tailored according to the needs of the learners and the organisation.
Our trainer will carry out a needs' analysis prior to the webinar, ensuring its contents, style and delivery are in line with expectations and requirements.
Here is an example of a course delivered in a full-day webinar:
1. Self-awareness and the Virtual Team Leader

2. Individuals within Your Teams

4. Identifying best practices

5. Practicalities of Virtual Leadership

+ Developing self-awareness of own working, communication and management styles - how do these impact the virtual team dynamic?

+ Understanding your team make-up and how this impacts working together – SWOT analysis of team motivators, expectations and challenges.
+ Defining and strengthening team members' individual roles and responsibilities, and how these support team goals, objectives and tasks.
+ Best practices for communication over e-mail, telephone and video conferencing will be developed and put into practice.
+ Overview of the practicalities involved when leading or managing remotely, including building rapport, relationships, trust, effective communication, pull/push competencies and motivation.
---
FAQs - Online Training
Here some quick answers to some commonly asked questions about the course and its delivery.
1. Who is the course aimed at?
Anyone in a management, supervisor or leadership position who is responsible for managing a virtual team, or teams, in other parts of the world.
2. How many people can we have on our webinar?
It's up to you. The more people you have on a webinar, the less engaging. We like to have between 6-12 people.
3. How long are the courses?
Again, this is up to you and also depends on who you are training and why. Obviously if you are serious about behavioral change through the training, then time is needed.

4. Can we record the webinar?
Absolutely. Your will receive an MP4 recording of the training once the webinar is complete. We are also able to edit the webinar and upload it onto an online learning platform, with quizzes, case studies and resources for future learners.
Learn more about our Custom Course Development.
5. Who are your trainers?
Webinars are designed, developed and delivered by professionals with a background in virtual team management and a training specialisation in cross-cultural communication. We will send you bios of the best people for you once we know more about your needs.
6. Do you offer any other courses?
We can offer online training support in the following areas as well as e-learning courses.
---