The Blog for Culture Vultures
Satiate your inner Culture Vulture with regular news and posts about cultural awareness, doing business abroad, working in a multicultural environment, HR diversity and global mobility.
15 Corporate Training Predictions for 2015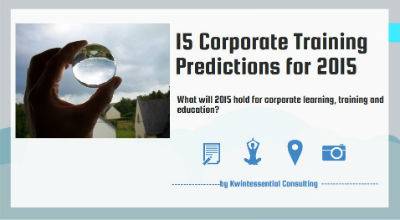 For those of you who follow our social media accounts, you would have come across our 15 predictions about business & corporate training for 2015. For those that missed them - this is for you!


So, what do the Commisceo Global team predict will happen in 2015?
#1: Globalisation will see the need for more localized training content in local languages

#2: Environmental concerns will see less printed workbooks and more training collateral in the Cloud and on Smart devices

#3: Learning Management Systems combined with analytics will lead to more personalised, individual-centred, training solutions

#4: A focus on the sustainability of learning will drive the training sector to deliver long term value

#5: Closing the gender talent gap will be a high priority for company training agendas

#6: Increasing virtual teamwork will necessitate the creation of common understandings, glossaries and collaborative platforms

#7: Emerging markets will leverage diaspora connections producing more "local" knowledge

#8: Cultural awareness will increasingly be taught to younger generations

#9: Diversity will be the antidote to groupthink

#10: Intra-generational training will grow in demand as firms seek to leverage knowledge of both young and old

#11: Compulsory training topics will increase for employers out of need to reduce exposure to litigious risk

#12: Holisitic approaches to employee welfare shall become more popular including diet, exercise and mental wellbeing

#13: Higher demands will be placed on pedagogical skills and creating an engaging, compelling, immersive and emotional learning experience

#14: Storytelling will become a more widely-used training technique because of its capacity to inspire and build empathy

#15: Mindfulness will be an increasingly sought after skill across organisations and a fundamental requirement for leaders


Related Posts