Cultural Competence e-Learning Course for Indian Professionals Working with the USA
---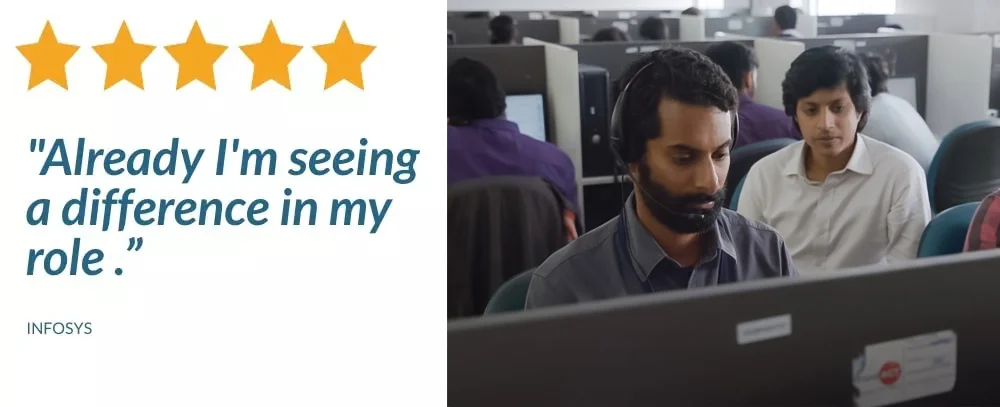 ---
GET STARTED! ONLY $40
Pay with credit card using PayPal or Stripe. You will receive login details via email.
No Credit Card? Choose 'Offline Payment' at checkout.
Contact us for team and organizational licenses.
See below for a sample of the course.
---
This e-Learning course has been designed for Indian professionals who work with Americans or in the USA and want to learn how to manage culture and communication differences.
Presented by Farhad, an Indian who has relocated to the USA, the training course an excellent introduction to American culture as well as provides useful tips focused on communication skills and navigating common challenges.
Today, the Indian community in the USA is the second largest after the Mexican community. Life in USA for Indian immigrants is mostly comfortable: a large number of students from India receive an American higher education, and employers willingly provide highly qualified Indian professionals with work visas. But for successful integration into the American business culture, it is better to prepare for communication with new colleagues and partners in advance.
---
What are the Course Benefits?
By completing the course, learners will have a fantastic working knowledge of American culture that will enable them to:
Understand the reasons behind working style differences between Americans and Indians

Explore culture, saying "no", attitudes toward time and working on a team

Bridge the gap when working with people who have different communication styles

Avoid unintentionally discriminating against or offending people

Present yourself in the most positive way in an American workplace
---

---
What's Covered in the Course?
Our e-Learning course is made up of 10 chapters focusing on specific aspects of US American culture, the people and their approach to work and business.
8. How to Present Yourself
+ Framing the course content and its benefits to learners when working with Americans.
+ Uncovering the impact of culture and Culture Shock when people work with other countries.
+ Learning about the difference in approach to time in the USA and India.
+ Appreciating some of the key challenges in communicating when Indians work with Americans.
+ Understanding the influence of hierarchy and how this translates into different expectations.
+ Exploring the American approach to communication, how they show politeness, give opinions, use humour and manage disagreements.
+ Covering critical aspects of expectations around team work and responsibility.
+ Appreciating the importance of appearances and how to make a good impression with Americans.
+ Learning how and why Americans write emails and how to adapt to their style.
+ Understanding different approaches to cell phone use within the workplace and professional settings.
---
ORDER NOW! ONLY $40
Click 'order it' then pay with credit card using Paypal or Stripe.
No Credit Card? Click 'Offline Payment' and then contact us for details.

---
FAQs
* If you are looking for tailored training for Indians working with the USA, then > refer to our webinar.
Here some answers to some common questions we receive about the e-Learning course.
Who is the course for?

This e-Learning course is suitable for Indian professionals who are either working in the USA, moving to the USA or working virtually with Americans.
The course addresses many of the common cultural challenges faced by Indians when working with American colleagues, customers or clients.
How many people can take the course?

It's up to you. We don't put any limits on numbers when you use our LMS.
We will give all your learners their own logins and they can take the course in their own time. We can even give you statistics on your learners' progress as and when you want it.
Is there an assessment for the course?

Assessment is carried out during the course. This is via multiple choice questions as well as questions based around case studies and workplace scenarios.
Do learners receive a certificate?

Once completed all learners can download their certificate for inclusion in their professional portfolio.
Do you offer courses on any other countries?
We currently offer online courses for:
China
India
Indonesia
Iran
Japan
Middle East
Saudi Arabia
Thailand
UAE
UK
USA
If you have a question left unanswered, please get in touch and let us know.
---
SCORM Files
If you would like to host the course on your inhouse LMS then we will send you a SCORM file for easy upload.
Read our FAQs page for more information on purchasing our courses.
Customise Your Own e-Learning Course
If you would like to use our online course or to adapt it to your own needs, then it's very easy.
We can design and develop new content or amend current content, to fit your specific requirements – whether that be in using specific case studies, changing quiz questions or anything else.
Read more about our Customized eLearning Courses.
Blended Learning
Although the e-Learning course is perfect as a stand-alone solution, it can also be used as part of blended learning.
Teams looking for tailored support or specific insights on working, or doing business with the USA can participate in a follow-on cultural training webinar or online coaching, tailored to meet their needs.
Team & Group Licenses
As well as individual licenses, we also provide team, group and organisational licenses.
Please contact us to discuss your needs and how you can license our course.
Read our FAQs page for more information on purchasing our courses.
White labelling & Reselling
All our e-Learning courses are also available for white labelling and reselling.
If you would like to generate revenue through sales of our courses or want to buy a license to present our courses as your own, simply get in touch with one of the team.
Read our FAQs page for more information on purchasing our courses for your LMS.