India Cultural Awareness eLearning Course
---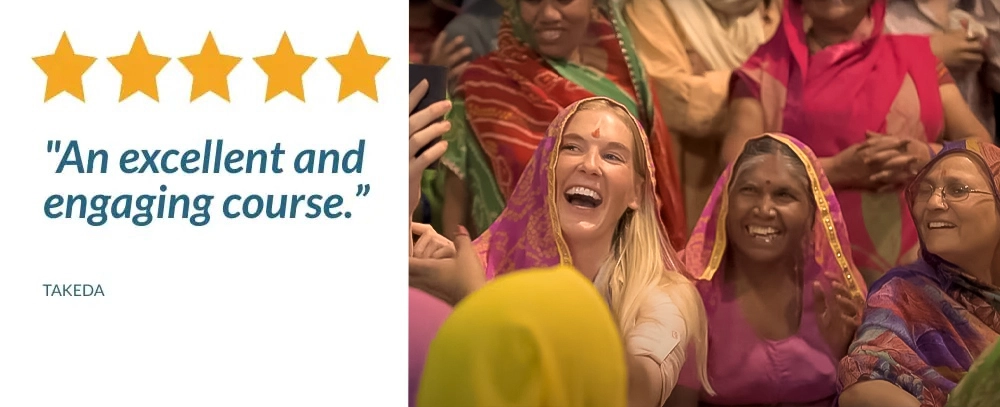 ---
START NOW! ONLY $40
Pay with credit card using PayPal or Stripe.
No Credit Card? At checkout choose 'Offline Payment'.
Contact us for team and organizational licenses.
See below for a sample of the course.
---
This market-leading training course is ideal for professionals who want to perform with impact and credibility when working with Indians.
Covering business culture, communication and etiquette, this off-the-shelf eLearning course will give you the confidence to successfully navigate Indian culture!
---
What are the Benefits of the Course?
By completing the course, learners will expand their knowledge of Indian culture and be able to:
Interact more confidently and make a good impression

Communicate clearly and handle conflict carefully

Improve negotiation skills and persuade convincingly

Avoid mistakes and perform role expertly

Enhance professional reputations and secure long-term success
---

---
What's Covered in the India Course?
Using a combination of presentations, quizzes and case studies, the course covers 8 chapters focusing on specific aspects of Indian culture, the people, the mindset and their approach to work.
+ Framing the course content, and benefits, to foreigners working with Indians.
+ Uncovering key influences behind the Indian world view and the way belief systems shape the culture.
+ Learning about the cultural and ethnic diversity that exists within modern India.
+ Understanding core Indian values and their impact on the Indian way of life.
+ Exploring the Indian approach to sharing information, giving opinions and managing disagreements, coupled with essential communication guidance for foreigners.
+ Covering critical aspects of Indian business culture, such as relationship building, dealing with conflict, agreeing outcomes, negotiations and meetings.
+ Appreciating common taboos and etiquette to ensure foreigners don't cause unnecessary offence or upset.
+ Affirming that when working with anyone from Indian, it is important not to draw upon narrow stereotypes.
---
ORDER NOW! ONLY $40
Pay with credit card using PayPal or Stripe.
No Credit Card? At checkout choose 'Offline Payment' and then contact us for details.

---
FAQs
Here some answers to some commonly asked questions about our India course.
* If you are looking for tailored training on working in India or with Indians, then > refer to our webinar.
How does it work?

Once you pay (or have your license) you will receive a URL via email. Simply click that URL and once you get to our LMS, quickly sign-up; you'll then get access to your course.
The course is made up of videos, case studies, quizzes and resources and is all online. See the sample above to get an idea of what the LMS looks like and how the content is presented.
Who is the course for?

Pretty much anyone who works with Indians in any capacity.
It has been designed with a broad professional audience in mind and is ideal for those visiting India or working remotely/virtually with Indians.
As our primary audience is based in N. America and Europe, it addresses many of the challenges faced by those from this part of the world.
How many people can take the course?

It's up to you. We don't have a limit on numbers.
We will give all your learners their own logins and they can take the course in their own time.
We can also give you reports on your learners' progress.
Is there an assessment for the course?

Yes indeed!
The assessment is carried out during the course via multiple choice questions as well as questions based around case studies and workplace scenarios.
These test learners' comprehension as well as their ability to apply learning to new situations.
Do learners receive a certificate?

Of course.
Once completed all learners can download their certificate for inclusion in their professional portfolio.
Do you offer courses on any other countries?
We currently offer online courses for:
China
Indonesia
Iran
Japan
Middle East
Saudi Arabia
Thailand
UAE
UK
USA
USA for Indians
If you have a question left unanswered, please get in touch and let us know.
---
Develop Your Own e-Learning Course on India
If you would like to use our online course or to adapt it to your own needs, then it's very easy.
We can design and develop new content, or amend current content, to fit your specific requirements – whether that be in using specific case studies, changing quiz questions or anything else.
Read more about our Custom eLearning cultural training Courses.
Blended Learning
Although the e-Learning course is perfect as a stand-alone solution, it can also be used as part of blended learning.
Teams looking for tailored support or specific insights on working, or doing business with India can participate in a follow-on cultural training webinar or online coaching, tailored to meet their needs.
SCORM Files
If you would like to host the course on your inhouse LMS then we will send you a SCORM file for easy upload.
Read our FAQs for more information on purchasing our courses.
Team & Group Licenses
As well as individual licenses, we also provide team, group and organisational licenses.
Please contact us to discuss your needs and how you can license our course.
Read our FAQs for more information on purchasing our courses.
White labelling & Reselling
All our e-Learning courses are also available for white labelling and reselling.
If you would like to generate revenue through sales of our courses or want to buy a license to present our courses as your own, simply get in touch with one of the team.
Read our FAQs page for more information on purchasing our courses for your LMS.