The Blog for Culture Vultures
Satiate your inner Culture Vulture with regular news and posts about cultural awareness, doing business abroad, working in a multicultural environment, HR diversity and global mobility.
Cross-Cultural Tips for Remote and Virtual Teams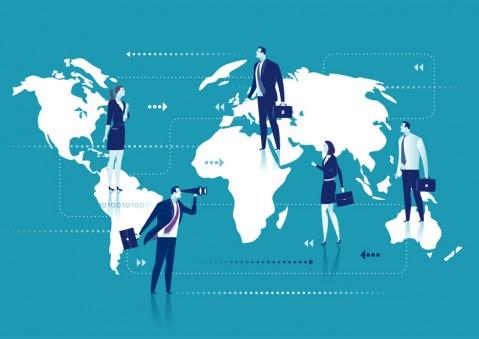 Working remotely, across time zones, with different cultures and through various communication channels is becoming more and more common.
Over the last 10 years or so, training demand for courses that focus specifically on helping remote and culturally diverse teams have grown year on year.
More companies and organisations are setting up teams that are centrally managed, yet dispersed across the globe in order to meet international demand.
Although the benefits are obvious in terms of having a dynamic, flexible and global team, such remote and virtual teams do take time to bed in, create a shared understanding of working practices and require a proactive approach to creating a team ethic.
Tips on Working in Cross-Cultural, Remote and Global Teams
A key part of any team-building training involves developing a best practice and a shared understanding of how to go about proactively creating a remote work space that allows for clear communication and positive collaboration.
Below are some of the common tips attendees offer up during the debriefs at remote and virtual team-building courses:
Mix Up Communication Channels: Don't always stick to Webex. The same format again and again does no favours in terms of motivating people and helping communication. Try and use different means and ways of touching base or having team online meetings. Think outside of the box and try to develop new and innovative ways to have your meetings, etc.
Establish Some Rules: Although some team members might not appreciate the need for rules, teams need rules in order that all parties work according to the same standards. If you don't want people taking calls during conference calls then set the rule! If people expect to be addressed by their names in emails, then set the rule! The rules should come from the team itself.
Use Simple English: Many native English speakers forget how fast they can talk, especially when online and one is not able to check whether listeners are understanding or not. English should always be simple, clear and unfussy (obviously dependent on the team).
Over-communicate: Within communications, whether that be during calls or email correspondence, it is always best to be over explicit. This negates the influence of assumptions on team interactions and allows for an open communication style based on understanding.
Remember the small talk: Commonly overlooked, small talk is often something many virtual and remote teams decide they need to do more of after a training course. They realise the benefits it affords in terms of keeping personal relationships going, accomodating those who want to chat rather than jump into business and allows some time for latecomers.
Vary the time zone: If you always have certain members of your team calling in very late at night or in the early hours of dawn, it can become a burden. Sharing out the burden is a good way of making everyone feel as though they have a turn where they are not working ridiculous hours.
Invest in Face Time: Getting together physically is really important in developing bonds, reaffirming goals and refreshing the energy of the team. Even if it is only once a year, try and have some face to face time including lots of downtime too!
Consider cultural differences: Especially early on in team, it is important to become aware of the role of culture in areas such as communication, saving face, approaches to conflict, management styles, etc. Aligning expectations and ironing out any cultural misunderstandings is vital in future-proofing the team against misunderstandings.
Learn About One Another: One of the easiest ways to impact a virtual team is to get them to learn about each other. Encouraging team members to spend time learning about the lives behind the people they work with develops a sense of empathy and trust. Learning about one another breeds confidence in a team.
Always Recap Meetings: As part of every meeting remote teams should devise ways to recap main points and ensure all are on the same page. This should be done verbally and then followed in writing via email. Changing up who in the team recaps the meeting is also a good way of keeping peoples' attention!
Incorporate Humor: Last, but definetly not the least, is the role of humour. Encourage a light hearted side to remote team interactions with plenty of time for humour and the odd tangent involving a personal anecdote from participants. Humour is an essential part of creating a positive team vibe.
Related Posts