Chinese Etiquette School based on British Manners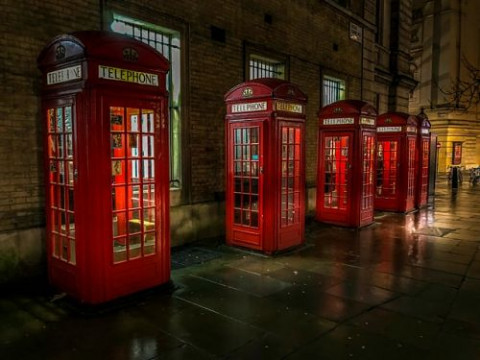 After decades of spitting, burping and littering, China seems to be ready for an Etiquette Revolution!
And how are they overthrowing behaviours that might be considered 'bad manners' elsewhere? With a touch of good ole fashioned British courtesies.
It's fair to say that rich people in Chinese culture, like to show off their wealth by buying the most outrageous items. From expensive cars to luxurious decorations and designer clothes, no fancy consumer product is left behind in this fast-growing economy.
The well-to-do Chinese differ from their western counterparts in one respect, however: their manners leave much to be desired [according to western understandings anyway].

According to Simon Parry in a Daily Mail article, Chinese officials are driven to despair by the manners of some Chinese people, which are considered as bad manners in many other cultures.
In Shanghai, a 'Seven Nos' campaign was even launched that prohibited spitting, littering, vandalism, damaging greenery, jaywalking, smoking in public places, and swearing. However, the campaign failed miserably.


---
---

This isn't the first time a campaign that encourages good behaviour has had little effect. When Beijing hosted the Olympic Games, 1,500 supervisors were appointed to stop bad behaviour. This didn't really work: a 'civic index' that was created by a Beijing University showed that international norms were far from being met.

All these bad manners are about to change! Beijing will soon witness the opening of a school of etiquette founded by Sara Jane Ho, a business woman from Hong Kong that grew up in London. She will give classes based on British etiquette. These classes do come with a price: paying £2,000 to £20,000, Ho's clientele can improve their manners in the five-star Park Hyatt Hotel in Beijing.

The high prices do not seem to scare off clients: on the contrary, dozens of society ladies have already signed up to learn how to use a fork and knife correctly, peel an orange and eat soup without slurping. Ho is also hired by large companies to teach employees how to behave themselves in business meetings with European and American clients.
---
---

Ho believes that most Chinese wish to learn good manners because they look up to British royalty: 'There is an aura of mystery about European royalty that Chinese people can't resist. Any aristocracy in China was wiped out, so the Chinese are fascinated by the idea of a royal dynasty that stretches back hundreds of years.'

Ho uses Kate Middleton as a example, as she is very popular in China. Ho: 'All my students will know who she is. It is very demanding to be a role model and to have everybody watch your every move, but she has carried it off with so much class and patience. She seems to exude kindness and etiquette awareness and care for others.'


According to Ho, manners in China took a turn for the worse during Mao's Cultural Revolution, when her family fled to Hong Kong. This does not mean that Ho, who has graduated Harvard Business School, does not feel Chinese: 'I am Chinese and very proud of my country. I don't think the vast majority of Chinese people are purposely offensive. They just haven't been enlightened to etiquette awareness.' She believes that the hardships the Chinese faced during the Cultural Revolution have impoverished their manners, as the focus was on surviving, not on being polite.

Ho would like to invite British aristocrats to educate her students. In addition, she is planning to take her students on a Grand Tour to Europe to experience the real deal. The task Ho has set out for herself is not an easy as she says Chinese don't do subtlety. 'In Beijing, I will go out for lunch with a girlfriend and she will have a big Marc Jacobs ring that you open up and it's a lip balm. When I go out to socialite events in Beijing and I put on minimal make-up, they say, 'Darling, you didn't put make-up on today. Are you feeling OK?'

One of Ho's new students, Zoazoa Jiang, says she almost moved abroad because of the Chinese's bad manners. She complains: 'I simply can't abide people who pick their noses, spit and talk too loudly.' Zaozoa and her husband, the head of one of China's biggest auction houses, can be found regularly on the society pages of Chinese glossy magazines. The socialite will pay 5,000-6,000 dollars to be taught the ins and outs of etiquette. She has already had two introductory lessons of which she says: 'We were taught how to shake hands, and how you should always have eye contact when you're talking to people. Before the course, I didn't know how to wipe my mouth properly with a napkin or how to fold it before placing it in my lap – or even how to tear a piece of bread and put butter on it. It's only now that I realise how terribly rude I must have seemed.'

The public behaviour of the Chinese has become a 'national embarrassment,' says Parry. However, whether a manner is good or bad is very culture-specific; as they believe phlegm is toxic, the Chinese abhor the Western practice of blowing your nose in a handkerchief and then putting it back in our pockets. Still, Ho and many others hope the good manners she teaches the high-society of China will slowly trickle down to the common Chinese: 'When I say I'm starting an etiquette school the first thing people say to me is, 'Thank you. China needs this.'

For more info on China's first finishing school, click here.
---
Photo by Nick Fewings on Unsplash
---
Related Posts
By accepting you will be accessing a service provided by a third-party external to https://www.commisceo-global.com/