New Training Course on Working Virtually with Japanese Organizations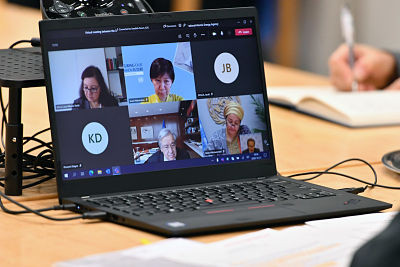 We're pleased to announce a new addition to our family of eLearning courses.
Working Virtually with the Japanese is packed full of tips for professionals with clients or colleagues from Japan.
Aimed at people working with Japanese organisations or working remotely in Japan, it focuses specifically on how to overcome the digital divide.
Bursting with practical advice on areas such as virtual meetings, managing relationships and virtual communication channels, this off-the-shelf course is perfect for those wanting to improve their communication and collaboration skills.
Here's a look at what's in the box!
---
What are the benefits of the course?
All our cross-cultural training courses are aimed at helping professionals understand how cultural differences can play out in their roles, and what they can do to manage them positively.
By understanding Japanese culture and how this shapes the business culture and working practices, learners will:
Interact more confidently with the Japanese and make a great impression
Respond appropriately to Japanese expectations and avoid confusion
Communicate clearly and handle conflict with consideration
Improve negotiation skills and persuade convincingly
Enhance professional reputations and secure long-term success
---
What topics does the course cover?
The eLearning course looks at the topics below.
Learners first receive a proper grounding in Japanese culture and values before exploring the impact this has on working culture in Japan and communication between people.
It ends with practical advice, tips and best practice on how to work effectively in the virtual space.
Religion: What are the core influences that shape Japanese society and their way of life?
Values: How do key Japanese values help us explain behaviours, preferences and cultural norms?
Communication: Why do the Japanese communicate and share information in the way that they do?
Business Culture: What features of Japanese working culture will affect us the most?
Challenges of Virtual Work: Where do we often find confusion when working with the Japanese virtually?
Managing Relationships: How can we build rapport and build relationships across the virtual divide?
Virtual Meetings: What can do we do to better prepare for online meetings and how do we handle tricky topics?
Virtual Tools: When should we look for different channels of communication and how do I write a good email?
---
Can I see a sample of the course?
Absolutely!
Simply visit the course page on which you'll see a banner for the sample – click it and you'll be taken into our Learning Management System.
No need to log in – all very simple!
You'll also find lots more information on the course, costs and how to set yourself up or buy licenses for your organization.
---
Related Posts
By accepting you will be accessing a service provided by a third-party external to https://www.commisceo-global.com/