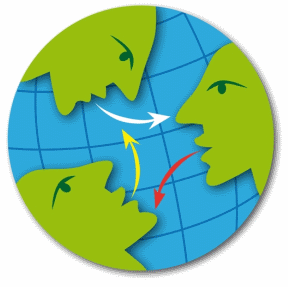 A report undertaken by Ipsos called "Culture at Work" throws some interesting light on intercultural skills in the international workplace.

The report concludes that there is real business value in employing people with intercultural skills. Businesses that responded to the survey all agreed they saw the following as crucial intercultural skills:

1. ability to understand different viewpoints
2. respect for others
3. knowledge of a foreign language

They believed that employing people without intercultural skills posed risks to the business including:

1. loss of clients
2. damage to reputation
3. internal conflict within teams


Intercultural skills in the workplace

If you are interested in downloading the whole report, please do so by clicking here. Otherwise we will run through some of the more salient findings below..


International HR challenges
Businesses in the survey were asked what their most pressing HR challenges were. Communication skills and speaking a foreign language both feature.

When you see how much business interaction takes place internationally, it is easy to understand why. More than 2/3 of respondents said their employees engage outside of their own country for business. Essentially, domestic-only trade is now very rare.



It's interesting to note that for most countries (other than USA) they not only have to deal with international clients but also international colleagues.


What Intercultural skills are needed?
Respondents pretty much all agreed that intercultural skills are important to their organisation. What do they define as intercultural skills? The authors of the report state that...
"...employers frequently define intercultural skills as 'the ability to understand different cultural contexts and viewpoints'"
Key phrases and terms businesses used when defining intercultural skills in the survey included:

* respectful * builds trust * accepts cultural differences
* understands cultural differences * multilingual * flexible * adjusts communication
* aware of own culture * tolerates ambiguity * adapts to different cultures
* works in diverse teams * continous learner * open to new ideas

Of these the most valued skills were respect for others and the ability to work in culturally diverse teams.


ROI from intercultural skills
How do intercultural skills really help a business and provide ROI? Research showed that HR managers associated such skills with business benefits. But what in particular? Bringing in new clients, team work and communication were all seen as a plus.



Although some countries did not relate intercultural skills with business benefits, they did however mention areas such as team harmony and good communication as important which may suggest they have yet to make the link between these and intercultural competence.

Employers on the whole agreed that staff with intercultural skills were an advantage to the business. Surprising then that less than half of companies surveyed screened candidates for these skills during recruitment stage. The exception to this was found in Jordan, Indian and the UAE. Similarly, although many state that language skills are important, less than a quarter actually screened people for language competencies. The research suggests that in some countries, employers look more to international experience, travel abroad, etc as indications of a more culturally-astute person.


Intercultural skills as part of education
More than 50% of respondents reported that they encouraged staff to develop their intercultural skills. Unfortunately the report does not state how this education takes place; i.e. cultural awareness training, reading lists, webinars, seminars?

Following on from this, ony around a third of companies believed their national education system was developing intercultural know-how in school or afterwards. More than a quarter stated that graduates were leaving university with inadequate intercultural skills. As a result hiring the right people becomes harder.


Conclusions
What conclusions are drawn from the report? Well here are 7 we thought of:

1. organisations across the world are increasingly global
2. finding employees with intercultural skills is a challenge
3. businesses increasingly realise the value of intercultural skills
3. employers are not screening applicants effectively
4. job seekers need to highlight intercultural experience
5. learning a language has never been so important for your career
6. employers want to help develop their employees' skills
7. businesses need to work with educators to develop intercultural skills

How about you? Any conclusions?

A big thanks to Ipsos, British Council and Booz Allen Hamilton for carrying out this research and publishing the findings. Cultural awareness training sits at the heart of what we do as a company so this was of particular interest to us.

If you are interested in up-skilling when it comes to intercultural skills, why not download our free manual to communication across cultures as a starting point?