Doing Business in Saudi Arabia as a Woman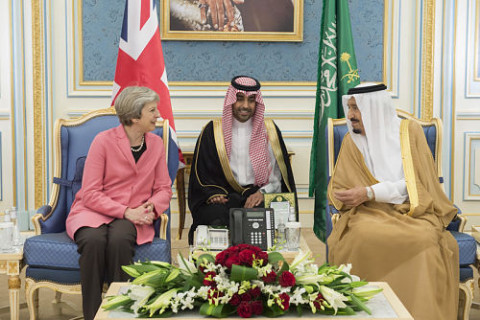 If you're looking for guidance on being a foreign businesswoman in Saudi Arabia, then you're off to a good start.
Researching Saudi culture and society demonstrates you already have some awareness that things work a little differently in Saudi Arabia.
Saudi Arabia can be a tough place for foreign businesswomen; however, it doesn't always have to be that way.
With the right attitude and the ability to navigate the local culture, Saudi Arabia can also be a breeze.
This is why cultural awareness is so important for any businessperson working abroad – it can be the difference between make or break.
Here, we're going to give you some quick insights and tips on doing business in Saudi Arabia as a foreign woman and what you can do to ensure your success.
---
DON'T MISS THE FREE SAMPLE OF OUR SAUDI CULTURE COURSE AT THE END!
---
Saudi Arabia is Changing
It's really important to understand that Saudi Arabia is in a state of change. The country today looks very different to that only 10 years ago.
What was once law in Saudi Arabia, such as women not being allowed to drive and the use of separate restaurant entrances, is no longer law.
Similarly, it was not that long ago that foreign women could not enter Saudi Arabia without being accompanied by a man.
So, things are now, in theory, changing as Saudi Arabia tries to 'open up' to the world. This means foreign businesswomen today have a much easier ride than their predecessors.
However, beware! Just because laws have been changed, doesn't mean the people have changed. Saudi society, culture, values, norms and red lines have not changed just because a law has.
Yes, when working with some sectors in Saudi Arabia it can seem very relaxed and liberal - this doesn't mean you'll have the same experience in other sectors. Saudi Arabia is still highly conservative, so it's best to err on the side of caution.
---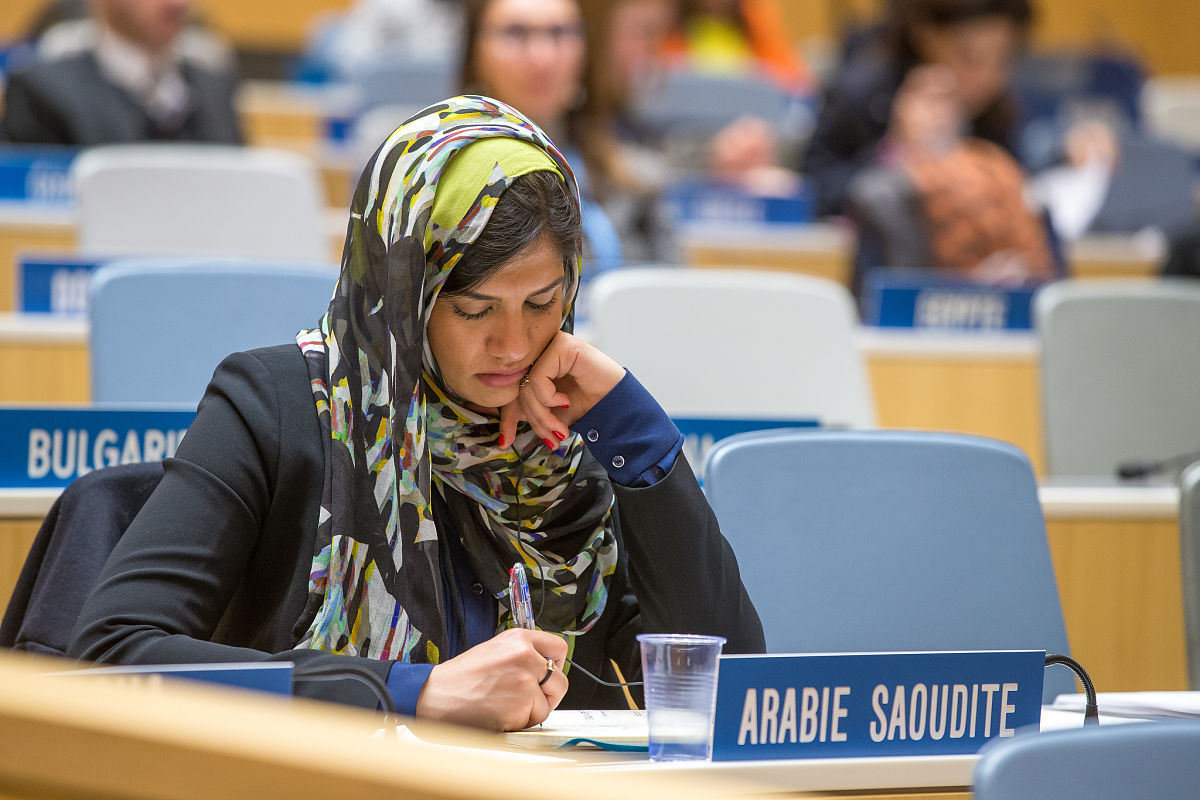 Women are a lot more noticable now. Photo by WIPO (CC BY-NC-ND 2.0)
---
What's Your Attitude to Women and Saudi Arabia?
Before we dive into the details of doing business in Saudi Arabia as a woman, it's crucial you ask yourself what you think of the country and the people.
We all carry stereotypes, bias, prejudice and preconceived ideas. When it comes to Saudi Arabia and the place of women, many of us are influenced by what we see in our media, etc.
If you're a foreign businesswoman visiting the country with very strong ideas as to what is right and wrong, this is going to colour a lot of what you see.
It's best to try and keep an open mind as taking a moral stance can become exhausting and self-defeating. This is not to say, however, that one should compromise their own culture or values.
---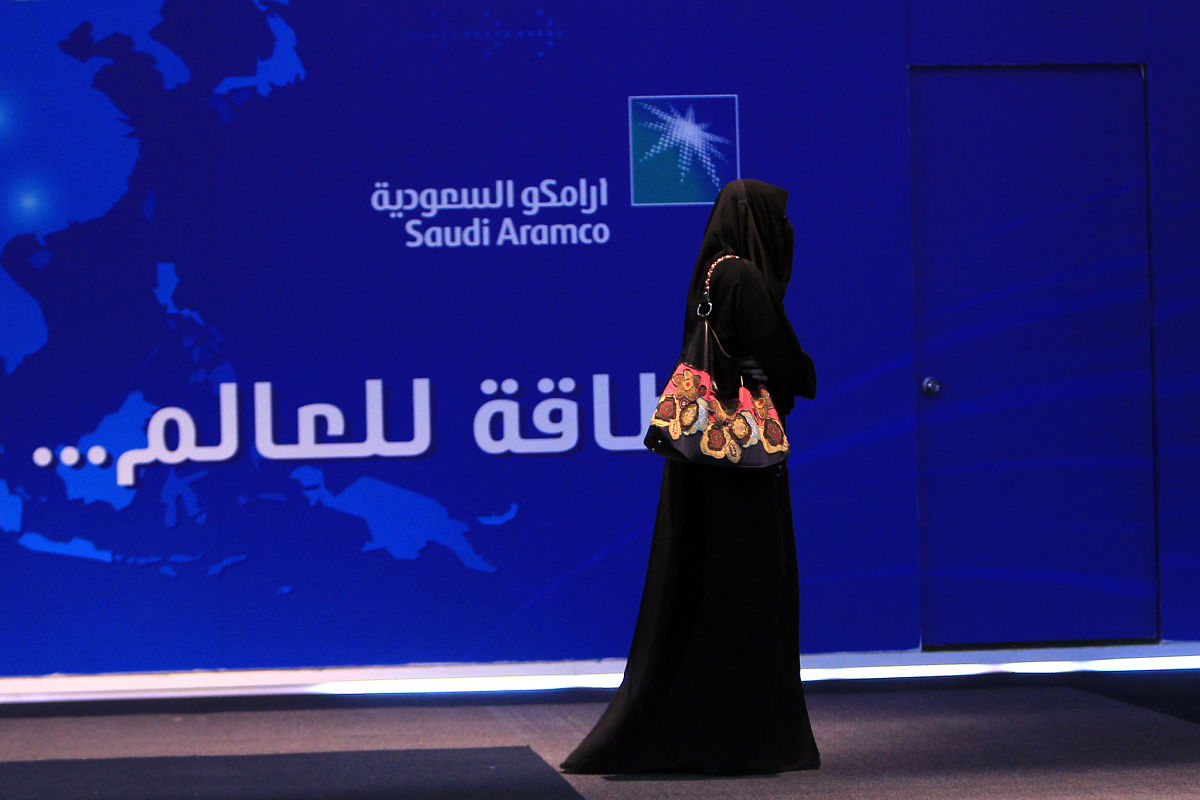 When visiting Saudi Arabia, grasp any opportunity to speak and spend time with local women. This will help your understanding of the culture immensely. Photo by ILO (CC BY-NC-ND 2.0)
---
Women, Hierarchy and Saudi Culture
From the get-go you need to understand that Saudi culture is hierarchical.
People believe hierarchy is natural and necessary for order and harmony. Hierarchy runs through Saudi society; starting in the family and all the way through to the boardroom. Everyone understands their place and how it works.
Women, naturally, slot into this hierarchy – again both inside and outside the home. Only until recently men and women led very separate existences in the workplace as they were often segregated. Women are now more visible.
However, this doesn't mean Saudis are comfortable with it. Culturally it can still be a challenge.
One area in which foreign businesswomen experience this is in how much respect they feel they receive from Saudis. Some women have told stories of being ignored or dismissed by their Saudi male counterparts. Well, this comes down to hierarchy.
Foreign women doing business in Saudi Arabia need to establish rank, status and hierarchy. This can be demonstrated or asserted in a number of ways including:
Your qualifications and professional know-how
Job title and company prestige
Having an important local partner
Essentially, the more experienced and senior you are, the more you can pull rank. In Saudi culture, this is needed in order to establish position.
Women doing business in Saudi Arabia should not be afraid to do so.
---
Most social functions and celebrations, including weddings such as the one above, are segregated. Photo by A. Khayyat (CC BY-NC 2.0)
---
Relationship Building as a Woman with Saudis
Saudi Arabia is a relationship driven culture meaning people like to spend time with one another both in and out of work.
Spending time of an evening sharing a meal or attending an event is a great way of building trust and cementing a business relationship. However, for foreign women, this can be difficult as you can't just take your male Saudi colleague or client out for a meal.
Relationship building is tough and is something that needs to be taken into consideration. Things you can do to overcome this would include:
Taking out a whole group of people as opposed to a one-to-one
Having male colleagues attend male-only events in your place
Inviting someone's family and kids out for a meal
Remember, relationship building is going to take much longer for women doing business in the country than for men, so be patient.
---
Be aware of generational differences in Saudi Arabia. What women would have once considered improper is now being challenged by the younger generation. Photo of is of Raha Moharrak, a Saudi mountaineer taken by World Travel & Tourism Council (CC BY 2.0)
---
Communicating as a Woman with Saudis
One final aspect of doing business in Saudi Arabia for foreign women to consider is that communication, when working with men, can be more indirect.
Saudi men have a natural inclination to try and be polite and hospitable with speaking with foreign women and consequently may give a response that is simply meant to please you, rather than speak the truth.
Similarly, if there is no rapport or trust, they may keep small details out or not give you all the information you feel you need.
It's important to find the right balance between accepting their attempts to be gracious with ensuring you really understand what is being communicated to you.
Some things to consider would be:
Asking open questions rather than inviting an automatic "yes" response
Talking to people away from others to reduce risk of loss of face
Avoiding any sense of commitment in how you frame your questions/requests
It may not always be an issue depending on who you're working with, but good to know in case you start getting crossed messages.
---
Michelle Obama politely stands back and lets her husband do the shaking. Photo taken at the Erqa Royal Palace in Riyadh, Saudi Arabia, on January 27, 2015. Photo by US Dept. of State.

---
10 Etiquette Tips for Women Doing Business in Saudi Arabia
Well, we hope we've given you some food for thought. To wrap up, let's leave you with ten essential tips in terms of etiquette when you're in Saudi Arabia.
1. Women are not legally required to cover their hair, however you must dress conservatively meaning being covered from ankle to neck and to your wrists. Showing flesh is a no-no.
2. Make-up is fine and local women also wear it in professional contexts. If you're working with the public sector, it might be a good idea to tone it down.
3. If you're travelling alone, remember at restaurants you may be required to eat in the family section, although you won't have this issue in your hotel.
4. Some Saudi men may not shake hands with women outside their family; do not take this personally.
5. Similarly, some may not want to sit too close to a woman in a meeting room or seminar. Some may even prefer not to have a meeting alone with a woman and will insist on others joining the proceedings.
6. Never touch someone of the opposite sex. If you bump into someone by accident don't worry too much as people are not big on apologies.
7. If you are out and about, be prepared for some locals to stare at you. Don't be scared or intimidated – you are simply very curious! Just smile and walk on by.
8. Eye contact is fairly minimal across the sexes – make sure you break eye contact every few seconds.
9. If you have clients that like to be entertained, consider occasionally meeting them in Bahrain or Dubai.
10. Should your position as a businesswoman ever be questioned, it's possible to politely remind your host that Khadija, the first wife of the Prophet Muhammad, was indeed a businesswoman! They will be impressed with your knowledge of Islam.
---
Take a Sample of our eLearning Course on Doing Business in Saudi Arabia
If you want to learn more about doing business in Saudi Arabia, then why not take our eLearning course?
It's packed full of cultural insights and tips to help you make a great impression and navigate the culture like a pro!
Have a watch of the preview below then hop over to the course page to take a free sample!
---
How well do you know Saudi culture?
Put yourself to the test with this fun little assessment involving 10 multiple choice questions!
CLICK HERE TO TAKE THE
CULTURAL COMPETENCE TEST FOR SAUDI ARABIA
---
Main photo shows British PM Theresa May meeting King Salman in 2017. Photo by Number 10 (CC BY-NC-ND 2.0)
---
By accepting you will be accessing a service provided by a third-party external to https://www.commisceo-global.com/