The 'Budgie Nine' - An Example of Cultural Ignorance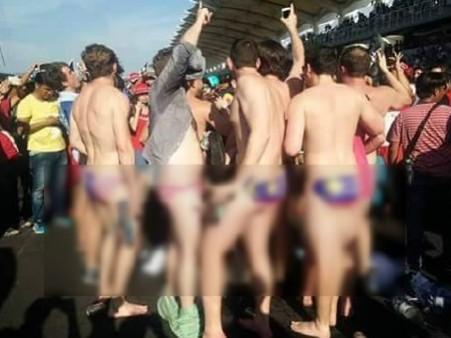 Have you heard about the 'Budgie Nine'?
If not, then here comes another perfect example of foreigners acting cuturally inappropriately when abroad.
To celebrate their countrymen's victory at the Malaysia Grand Prix these 9 men from Australia stripped down to Malaysian-flag-printed swimwear — or "budgie smugglers" as they are known in Australia.
Well the Malaysians did not think so and the men were all taken to court to explain themselves.
Lucky for them the Malays extended some common sense and accepted lawyers' pleas to let them go without prosecution.
The men issued an apology during their time a court, saying they had "no idea" their conduct would be considered culturally inappropriate.
"The incident … was done in a moment of folly, and for that we are truly sorry that we have hurt the feelings of Malaysians in general," the letter read.
Malaysia has strict rules on any display of public indecency and foreign offenders are typically issued a fine before being deported.
Last year four foreign tourists were jailed for taking naked photographs at the peak of Mount Kinabalu in Malaysia.
Their lawyer, Shafie Abdullah, had argued that his clients were part-time lifeguards, so stripping down came quite naturally to them!
Natural and appropriate behaviour? What do you think?
---
By accepting you will be accessing a service provided by a third-party external to https://www.commisceo-global.com/