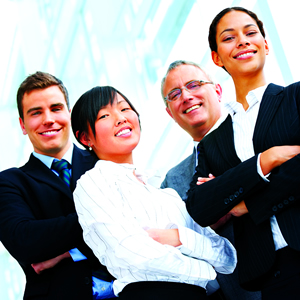 Recent surveys of employers consistently show that what they look for in job candidates - and seldom find - are strong communication skills. As the work force increasingly diversifies and organizations become global in scale, employers are setting the bar higher, favoring candidates who can communicate sensitively and efficiently across cultural divides.
Multicultural awareness is a "critical success factor" in today's job market, says B. K. Simerson of Tradewinds Consulting, a St. Charles, Ill.-based firm that helps organizations develop leaders and cope with change.
"We are now a global workforce. If you are entering an organization, unless it's extremely small, you're going to be interacting with individuals from different cultural backgrounds," he says. These differences occur among co-workers and clients and in supply chains and distribution channels, he adds.
Understanding cultural differences and being able to communicate with people of different races, ethnicities, nationalities and backgrounds is so crucial to the success of organizations that it won't be long before such will be the norm among job applicants and an expectation among employers, says Kristina Leonardi, adjunct instructor, NYU School of Continuing and Professional Studies, New York.
Read more > Philly.com