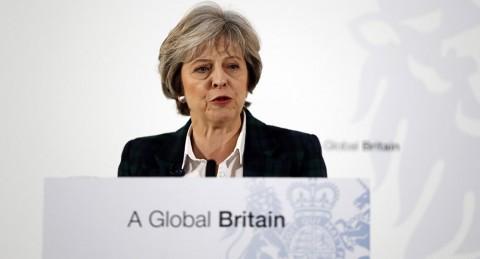 Can Theresa May's vision of a 'Global Britain' really come true when even the Institute of Translation & Interpreting question if the UK has the language or cultural skills necessary to compete globally?

Once unshackled by the chains of the EU, the future of Britain is being positioned as one of a global trader. However, to be a global trader you need the skills to do so.
The Institute of Translation and Interpreting (ITI), in the run up to its conference in Cardiff, has drawn attention to a massive skills deficit in the UK by urging British businesses and institutions to prioritise language skills in the workplace in order to avoid disadvantage post-Brexit.
With no seeming plan in place by the government to address this, Brexit could expose the UK to serious commercial risks if action is not taken urgently.
In a blog on the ITI website a statement by Lord Harrison during the debates on the EU Bill (Notification of Withdrawal) are quoted as means of illustrating the concern by many that Britain is not prepared to be 'global':
"Our ignorance of continental languages, people, customs, habits and especially markets has made us carelessly complacent. We idly rely on speaking English fortissimo in brokering trade deals."
One area in which the UK will struggle due to its poor language skills is with translation and interpreting. If the UK removes itself from common EU rules, laws, etc it is likely that there will be more need to write laws, agreements, and documentation - all of which will need translating.
The President of the European Commission, Jean-Claude Junker, has already publicly stated that English could become less significant in terms of the language of the EU. This means it is going be even more important to have commercially savvy linguists in the country able to work on such translations and commercial initiatives. Potentially losing thousands of EU nationals post-Brexit further damages our domestic capabilities in terms of meeting the demand of modern, multilingual and globalised business.
As highlighted by ITI chairman Sarah Griffin-Mason losing language skills in Britain means more than just losing the ability to communicate.
"It's important to remember that competence in another language is not just about knowing the words, its about cultural awareness and empathy too. Whether through a better trained workforce or use of appropriately qualified translators and interpreters, businesses need to put themselves in a strong position to build important new relationships and sustain existing ones in very different trading conditions."
If Britain is truly to become 'Global' we need a plan in place to give us the skills needed to work and compete in a global marketplace - going out into the world with a monolingual and monocultural workforce is not planning for success.