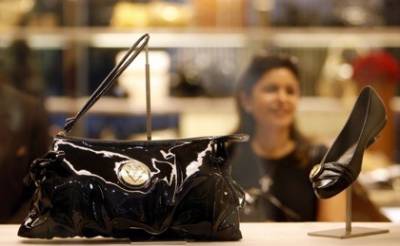 Good news. The European luxury goods sector will continue to grow over the next five years thanks to emerging markets. So what does this mean in terms of business, language, culture and translation? How can luxury brands capitalise?
The Business of Fashion
has recently stated that in the next five years, the luxury goods sector in Europe will continue to expand. European luxury brands are expected to see a 6 - 7% growth. Given the current European economic climate this might seem remarkable but this expansion can be explained solely by emerging markets overseas.
According to a report by senior research analyst Mario Ortelli, who works at Sanford C. Bernstein, this growth of 6 - 7% means the luxury sector will grow twice as much as Gross Domestic Product (GDP). Emerging markets account for most of this growth. These economies have already proven to be very important for the luxury goods sector on the continent. According to the report 38% of the growth in the next five year is expected to come from emerging markets.

[Prada in China]
The most important one of these is China as the growth percentage of the country will continue to be over 10%. However, if purchases made by consumers from new markets that travel abroad are included, the new economies are responsible for 60% of the growth of the European luxury sector.
Many people believe the Chinese economy is slowing down, which begs the question whether this will affect the luxury sector's growth rate in any way. Ortelli does not believe this is the case, as the number of people who can afford luxury goods in the country is still growing.
'
Despite the softness of China's economic growth in the last two quarters of 2012, luxury brands [still] posted incredible results in Europe, due largely to purchases by tourists from Asia
,' Ortelli says.
In fact, because of the price difference that exists between China and other countries, Chinese customers buy more than 60% of their luxury products abroad. The prices of luxury items in China are a lot higher because of high import duties and taxes.
Ortelli: '...
on a Prada bag a consumer from Beijing saves 40% if he buys it in Paris compared to what it would cost him at home
.'
Next to the high taxes, luxury items are also extremely expensive in China because of the high margins luxury brands put on their products. '
Louis Vuitton has raised its prices in Europe by as much as 8% in October 2012 to partially bridge the gap between European and Asian prices
,' Ortelli explains. 'T
o reduce retaliation risk of domestic European customers, some luxury brands have selectively increased prices on products mainly bought by Asian tourists e.g. male leather bags, small leather goods
.' The report also points out that Prada and Richemont are very likely to grow even faster than expected, mainly because their exposure to the emerging Asian markets is very high.
Retail and Luxury: Increasing Sales through Translation & Localization
So with this dramatic increase in business what does the retail and/or luxury goods sector need to do? In short, use language and culture to get a competitive advantage.
Neil Payne talked specifically about the need for cultural awareness within the British retail sector back in 2012 at a talk to Regent's College, London. In the video below he touches on many of the points raised in this blog.
As outlined in the video, retail, and especially the luxury or high-end of retail, needs to capture as much foreign currency as possible. This can be done through customer service, sales techniques, marketing, point of sales, etc which are more in-tune with the target country or culture. It is critical luxury brands adopt a touch of "localization" to their boutiques and stores.
Kwintessential have worked with the luxury goods sector in a number of ways. The more commonplace work we carry out is
translation services for the retail sector
. We work with stakeholders in translating a range of items across the business process. We translate websites, flyers, brochures, email marketing campaigns, apps, point of sales materials, signage, contracts and more. Essentially, where a retail company sees an opportunity to communicate with clients in their language(s), we assist in translating and localizing that message.
The other area in which we work with the retail and the luxury good sector is in cultural awareness training. Our
retail cultural awareness courses
are designed to help businesses understand how to target and do better business with foreign shoppers.
For example, last year we worked with one of the biggest luxury brand groups on the planet. 'The Group' designs, produces and distributes high-quality personal luxury goods, including ready-to-wear, handbags, luggage, small leather goods, shoes, timepieces, jewellery, etc and directly operates stores in major markets throughout the world and wholesales products through franchise stores, duty-free boutiques and leading department and specialty stores.
The Group needed training for all their boutique staff in the UK and Ireland. An increase in custom from countries such as China, Russia and the Arab world resulted in customer service gaps within stores.
Kwintessential were tasked with creating a cultural awareness workshop that:
1. equipped all boutique staff with cultural know-how
2. provided information on specific cultures and
3. was exciting and stimulating
We created three amazing themed rooms (Arab souq, Russian office and Chinese restaurant) with actors, decorations and lighting. Learners were taken on a role-play journey. By looking at cultural awareness and participants' roles within the workplace through an experiential, hands-on learning environment, we delivered a course that was fun, engaging and effective.
Through this process we ticked all the boxes in providing a course that was culture-specific, culture general and experiential in its learning style.
So what benefits did our cultural awareness training bring?
1. Increased confidence in dealing with foreign customers
2. Better customer service
3. Increase in sales
4. More repeat business
5. Employee retention
This is one of many examples of pro-active steps we see our retail clients taking in order to secure more orders from abroad and foreign shoppers domestically. Whether its website translation or cultural awareness training or localization - all help you speak to a foreign audience which builds trust and hopefully increases sales.
So what are you going to do to tap international business?